Products & Partnerships
Case Studies - Coverall Product for Unoccupied Cover
12.10.21
At Prestige Underwriting, we are experts in helping you with 'difficult to place' risks and tailoring coverage for your customers' needs. With our Coverall product we can help you with Unoccupied residential cover from basic to full perils coverage as required.
Whether it is pending sale or probate, undergoing renovation or a vacant holiday home, our Coverall product can cater for the cover needed to suit your customer policy and premium requirements.
We welcome the opportunity of tailoring cover required for your unoccupied enquiries. We encourage you to get in touch with us should you have a case you feel we could cater for.
Here are 3 recent scenarios where we successfully provided cover.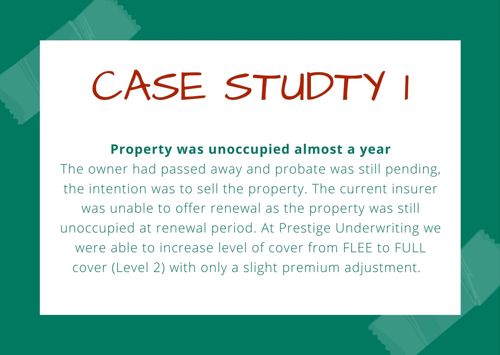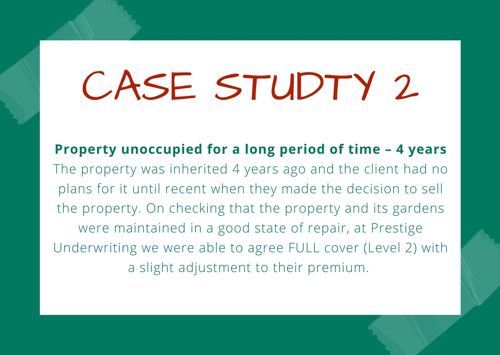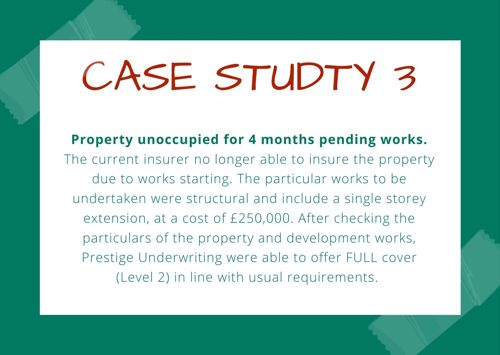 Please feel free to get in touch with us to request more information about our offering or to speak to one of our specialist team about your specific risk.
Call us on 0800 0113 777 or email gb-home@prestigeunderwriting.co.uk.