General
Driving home for Christmas - What you need to know before you make the journey
16.12.20
There is nothing more exciting than switching off for work, packing up the car and heading home for Christmas to your loved ones! At these times, our roads can be much busier as others begin the homeward journey for Christmas.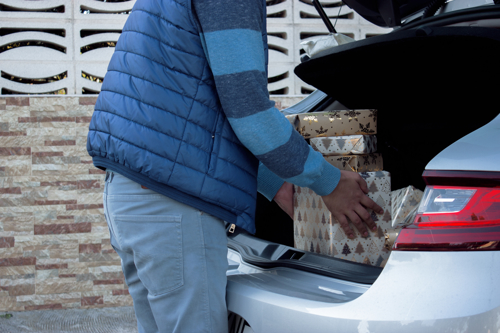 To ensure everyone has a peaceful, happy and safe Christmas remember the simple things before you set out in your car.
Pack your car smartly
Ensure there are no obstruction to your view and don't forget the presents.
Know your route/s
You are probably very familiar with the homeward bound journey. However, it is always advisable to know an alternate route in case of any traffic disruptions. Nobody wants to get stuck in traffic, especially not at Christmas.
Leave enough time for your journey
Christmas is a busy time, and you will not be alone in your homeward journey. Others are likely to be travelling home for the festive period so make sure you factor in some traffic delays to your journey, especially if you are making your journey on the days before Christmas.
Remember to check your tyres, oil, screen wash and fuel
It is always advisable to check these things before beginning a long journey. It will also help avoid any stops at garages to top up.
Stop for regular breaks if it a long drive
It is never advised to drive tired. Therefore, you should ensure you are well rested before long journeys and take regular breaks on the route.
Check the weather forecast
Know what weather conditions you maybe driving in and this will also help ensure you have left enough time for the trip. As naturally in poor weather conditions it will take a little longer.
Make sure the children are amused
Especially if you are travelling a long distance, make sure the children are entertained and have books or iPad to help ease the long journey and make it less stressful for the driver.
Christmas music
Finally, get into the festive sprit with the perfect Christmas playlist. Christmas music will ease the pain and stress of a long journey, keeping everyone's sprits high.


Have a happy and safe from Prestige Underwriting!