People
Meet Gillian Cunningham, Sales Director Ireland
02.03.22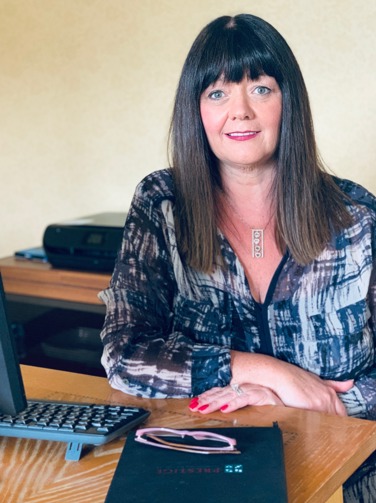 Full Name: Gillian Cunningham
Job Title: Sales Director Ireland
Where can you be found?
I split my time between WFH, the office in Carrickfergus and broker visits.
What team do you hang out with (Department)?
Broker Development
When did you join the Prestige Underwriting Team?
I joined Prestige over 20 years ago but have worked in the Insurance industry for 38 years in total, though it feels like much less – time flies when you are enjoying yourself!
What are you likely to be doing on a daily basis?
My role has changed considerably since Covid. Prior to lockdown most of my broker visits would have been face to face, so I would have spent a lot of my time travelling to and from meetings.  Since 2020 most of my meetings are online via Microsoft Teams but I have recently started visiting a few brokers, once again.  A typical day will include a mixture of broker review meetings, answering broker queries (emails/calls) and internal meetings with the ROI/NI development teams and working with our marketing team to promote the Prestige Underwriting Brand.
What do you find most challenging about your role and what do you enjoy most?
Unfortunately, I am not always able to help a broker when they have contacted us to help find a solution for a particularly hard to place risk.  When the risk does not sit within our risk appetite, I will do my best to persuade underwriters to accept but sometimes we are unable to offer terms.  I find this difficult.
I enjoy most the variety and the challenge of watching new products launch and grow.  I get to meet new people and have been able to forge some great friendships over the years.
If you weren't working in the dream sector of insurance, what would you love to be?
I love cruising so if I could, I would spend my time travelling and reviewing cruise ships.
Do you have a role model in life / business? If so, who and why?
I don't have anyone in particular but I have always tried to emulate anyone whom I considered to be hardworking and fair.
When you aren't working what are you getting up to?
Travel, I have always enjoyed travel, whether it is within Ireland/UK or further afield there is nothing I enjoy more than planning a trip and heading off.  We spend our weekends at our mobile home in Co Fermanagh.
How would your colleagues describe you in 3 words.
The 3 ables - Reliable, Approachable and Sociable
What's the dream for the year ahead?
Given that we haven't been able to meet face to face for some time I hope that the next year will bring more in person meetings and getting back to doing business as we knew it before Covid.  It would also be great to get back to socialising with our friends in the industry.