General
Our team share some of their favourite Pancake Tuesday Recipes
15.02.21
Tomorrow is Pancake Tuesday, and we cannot wait to sit down and enjoy our favourite pancakes. Will you be having pancakes for breakfast, lunch or after dinner?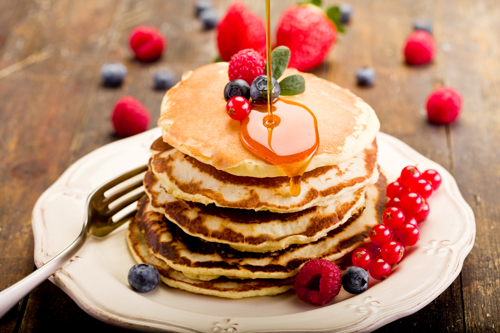 Some of our team have shared their favourite recipes from sweet / savoury options to the latest craze of protein pancakes.
We can not wait to try these recipes and hope you do too.
Traditional Pancakes
You decide whether you want to make a sweet option or if you are a more savoury pancake lover you can swap out some of the ingredients for your chosen savoury option.

Ingredients
 125g Plain flour
 1 egg and 1 yolk
 300ml milk
 A little oil
 Tin of pitted black cherries in syrup
 Vanilla ice cream (optional)
 Grated white chocolate to decorate (as much or as little as you like).
Method
1. Sift 125g of plain flour into a bowl and make a well in the middle.
2. In a separate bowl whisk together one egg and one yolk and a little of the milk from the 300ml.
3. Then pour the mixture into the well with a little of the flour.
4. Gradually whisk in half of the remaining milk drawing in gradually the rest of the flour (slowly here) and eventually it will make a smooth batter.
5. Stir In in the remaining milk, cover and leave to stand for 20- 30 minutes.
6. Heat a frying pan with a little brush of oil.
7. Ladle two or three table spoons of batter into the pan so that the batter spreads out evenly over the bottom of the pan.
8. Cook on medium heat for 45 – 60 seconds until small holes appear on the surface of the pancake and the underneath is slightly browned and the edge starts to curl.
9. Loosen the pancake and turn (or toss it over if you are feeling brave).
10. Cook the other side for 30 seconds until golden.
11. Slide the pancake out of the pan before heating the next one.
12. To serve place a tablespoon of black cherries on one side of the pancake along with a scoop of vanilla ice-cream (maybe two) and fold the pancake over.
13. Decorate by drizzling the pancake with some of the cherry syrup and finish off by sprinkling grated white chocolate over the top.
Protein Pancakes
For the healthier pancake lovers here is a simple and easy protein pancakes recipe…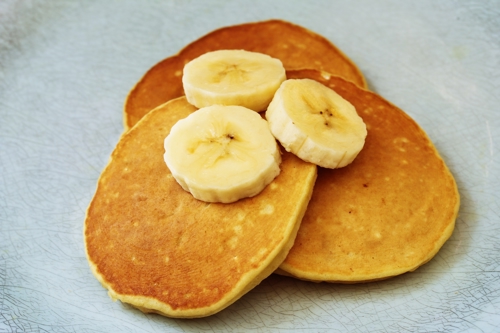 Ingredients
 One Banana
 Half a mug of rolled porridge oats
 One egg
 Tablespoon of honey
 Blueberries (optional)
Method
1. Mash the banana, add one egg, half a mug of porridge oats and the honey into a bowl (if you like blueberries you can add them).
2. Mix it all together until it is nice & smooth.
3. Add to a frying pan and cook on a low-mid heat for 1-2 minutes each side.
4. After a couple of minutes, you will have some yummy pancakes!
Toppings (optional)
You can also complement your pancakes with either one of the following toppings!
 Natural yoghurt and drizzle of honey
 Fruit of your own choice
 Lotus Biscoff spread
 Nutella
 A drizzle of Maple syrup
We hope you enjoy and have a flipping great day from all at Prestige Underwriting!
Here are some of our teams homemade fantastic creations.