General
Prestige Underwriting Partner CSR Initiative – Summer Sunflower Competition
06.07.21
As part of our Summer CSR programme, we launched an initiative across our broker network to sign up to our summer sunflower competition. The competition is to grow the tallest sunflower with the tallest entry winning a donate of £/€200 for a charity of choice.
We are now a few months in, and your sunflowers should have started to blossom and grow. To help you care for your sunflower, we would like to share some of our top tips and advice:
Repotting to a bigger pot
Seedlings should be grown and ideally kept inside or somewhere warm
If they are currently in pots smaller than 9cm then we recommend potting them on to a bigger pot before planting outside
To pot on prepare some potting mix with good quality multipurpose compost (peat free) and add a little grit as this will help with drainage
Fill a clean pot with the potting mix and make a hole in the middle (a little wider than your sunflower)
Pop your sunflower in the new pot and make sure the roots are fully covered – and tap to settle the soil
Never push the roots down as this will damage the plant
Water well and leave somewhere bright but sheltered during the day. If it's still cold where you are then you could bring them in overnight.

Moving your sunflower outside
Keep them in their pots until they reach about 30cm high and the roots have filled your pot - They'll then be ready and strong enough to plant outside
When you are ready to plant outside remember they need room around them so don't plant them too close to other sunflowers or plants as they will just start to try and compete for water and space (allow at least 45cm between each plant). Find a sunny position too as they really need at least 6 hours of sun per day!!!!!!!!!!!!!!!!
You also need to plant them quite deep and a bit of manure will really help their growth

Looking after your sunflower
Ideally you will have canes or a stake too to support them and tie them in regularly as they grow with some soft garden twine otherwise, they won't stay upright and your sunflower will not survive if there is any wind
Finally Sunflowers are thirsty plants so make sure to water them well especially in dry weather
For an extra boost and for all you competitive growers out there you could feed your sunflowers some diluted fertiliser each week but be careful not to get this on the plants leaves as it will rot them!
Then once your beautiful sunflower starts flowering feed it with tomato feed for that extra boost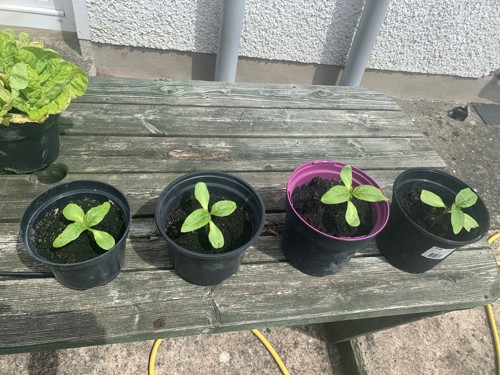 Good luck to all our competition entrants, keep sharing your images with us and happy growing!
The Sunflower Team