Products & Partnerships
Prestige Underwriting Saves Christmas!
13.12.22
As a leading MGA specialising in niche risks, we take pride in our ability to provide cover where many other insurers simply cannot write the risk. Our Motor Underwriting team were delighted to provide a solution for a valued and long-term Broker when they reached out with a risk query last week.
The client - Rotary Club of Radcliffe – has a long-established Christmas tradition of hosting the annual sleigh run, an integral feature of the festive calendar in Radcliffe which raises vital funds for the local community. For over 15 years the Broker had held the risk – a modified commercial vehicle to replicate Santa's Sleigh - however this year the insurer was unable to offer renewal terms. Faced with an alternative premium which was considerably more expensive and therefore unaffordable, the charity faced the dilemma of not running the event this year and in turn very much disappointing the children and local community who looked forward each year to following Santa as he travelled down the roads of the town on his sleigh.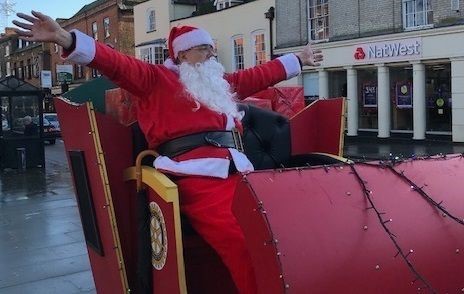 With our non-standard CV product, we were quickly able to set up a new agency and get the risk on cover.  We are delighted to say the Christmas Event of the year for Radcliffe is back on and Santa's sleigh is insured and, on the road, again!
Finding the right product for a risk that otherwise wouldn't have been covered at this time special time of year definitely helped get the Prestige Underwriting Motor team in the festive spirit this year! What's more, the Rotary Club of Radcliffe and the local community and charitable causes set to benefit from the Annual Sleigh Run.