General
Richard Livingston Awards 2023
13.03.23
Prestige Insurance Holding's Group Richard Livingston Awards took on Thursday 9th March at Ulster Rugby's Kingspan Stadium. Launched in 2022, the Richard Livingston Awards is now an annual award celebration for staff across Prestige Insurance Holdings Group. Set up in memory of our treasured colleague and friend Richard Livingston, the awards celebrate employees from businesses across the Group who have progressed to enhance their Excellence in Professional Development and / or knowledge and leadership in the workplace.
The awards opened in January inviting employees across the Group to apply or nominate a colleague they believe are deserving of the award. There was a fantastic response with 10 applications / nominations being shortlisted for this prestigious award.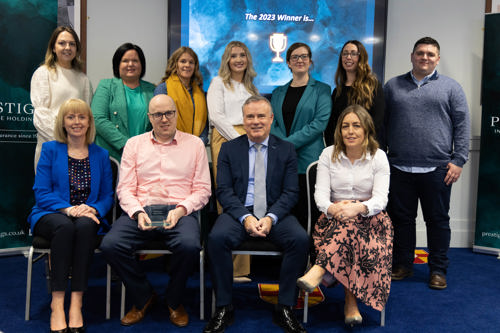 Following an independent judging process, with the panel being really impressed by the standard of each application, they were delighted to welcome all shortlisted candidates to a special recognition lunch award ceremony at Ulster Rugby's Kingspan Stadium on Thursday 9th March, hosted by Trevor Shaw, Group CEO. Other guests included those who nominated a colleague, programme mentors and 2022's Richard Livingston winner.
Richard Livingston's wife Sarah kindly provided the following words of gratitude which we shared at the ceremony, 'Richard was a strong advocate of lifelong learning, whether it be academic, vocational or for general interest and that he would be so proud that he is remembered in such a way'.
We were delighted to celebrate and support four of our colleagues who were shortlisted these included:
Kieran Wilson, Project Coordinator, Prestige Underwriting – for undertaking a Masters Degree (MSc) in Software Development conversion course at QUB as well as the CII. Kieran's understanding of software systems and programming have been invaluable, providing a platform between e.g. Covernet and Claims, or Group Analytics and Claims. He uses his knowledge to help others and willingly learns and researches new tools to help manage the MI and reports. He is studying in his own time for his Masters and CII (via the Academy) and his commitment to continued learning is described as an inspiration to his colleagues.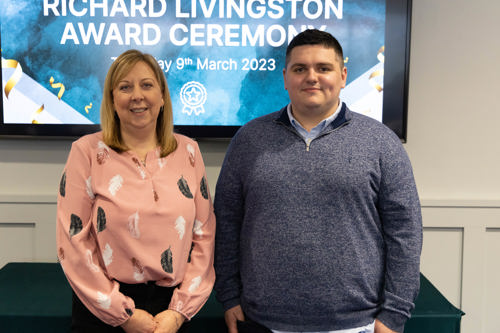 Sharon Reid, Group Training Manager, Prestige Underwriting was nominated for undertaking the Accredited Product Adviser (APA) qualification via the Irish Insurance Institute. Sharon has been instrumental in the development of the Academy Programme in 2022. She has also played a key role as a mentor to her own group of students as well as supporting the other mentors and students. She is undertaking the APA qualification in order to be better able to support and advise colleagues undergoing the ROI qualification. Sharon is described as a "true role model" for encouraging and supporting continuing professional educational development, in support of her own development, for the benefit of her colleagues and the business.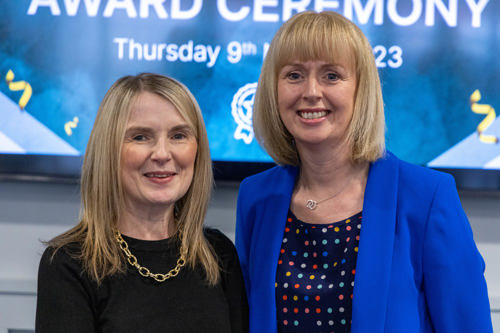 Lizzy Watt, Group Compliance Advisor, has completed her Advanced Diploma with the Chartered Insurance Institute. Lizzy completed her Advanced Diploma in Insurance having successfully completed her diploma in 2021, achieving the highest mark in the Northern Ireland Institute. Lizzy is described as demonstrating great commitment to her studies, she's described as having developed great understanding of the business through gaining these qualifications, and as providing great support to those less experienced within the team.
Karen Sinclair, Group Compliance Manager, was nominated for achieving her Professional Certificate in Compliance and is working towards her Diploma. Karen is described as adopting a management and leadership style within her Department which promotes professional curiosity, personal development and learning within a safe and supportive environment. Her mentorship and leadership of her team has contributed greatly to their development and has improved the team's capability and success. She has used the knowledge gained through her qualification to develop and deliver training to the wider business, on regulatory topics such as, vulnerable customer guidance, Consumer Insurance Contracts Act, General Insurance Pricing rules UK & ROI and most recently Consumer Duty.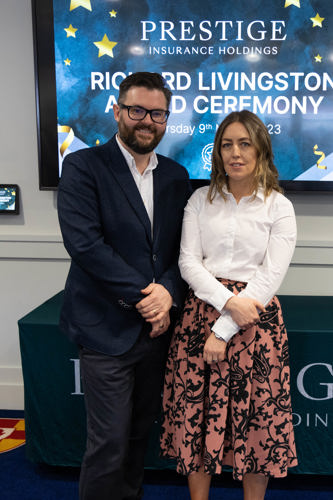 During the ceremony, a summary of each of the shortlisted applications / nominations was presented to the audience and the winning entry was announced, bringing the event to a close.
The overall winner of the Richard Livingston 2023 winner is James O'Hara, Senior Manager, AbbeyAutoline!  James was presented with their award by 2022's winner, Carl McComb and Trevor Shaw.
The award ceremony was a wonderful event which celebrated all shortlisted nominees and highlighted their continuous hard work and dedication to their professional careers and team.
Congratulations once again to Kieran, Sharon, Lizzy and Karen and indeed to James O'Hara who took home the 2023 award.