General
Are your clients adjusting their homes to accommodate for 'working from home?'
12.02.21
With us fast approaching a full year of lockdown, it's hard to remember how working life used to be pre-March 2020. Over the past year we have had to adapt and overcome many challenges and changes, one of which has been the evolution of working from home. Many employees all over the country are now doing a full-time job from the comfort of their own homes. Whilst this is fast becoming the new normal, most of us will of had no experience of home working so it could be easy to overlook your home insurance and its provisions and restrictions for business use from the home.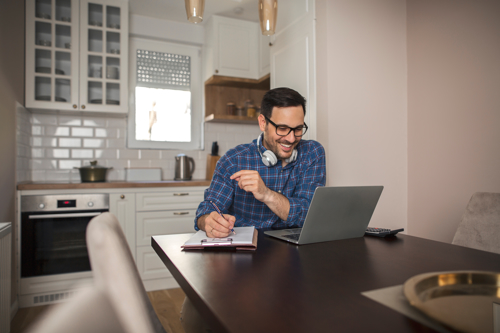 Some companies may apply caveats and restrictions, with some potentially not being able to continue cover at all, for any form of business use that may be undertaken from the home. Times like this it is vital your policy gives you the cover you truly need, so now would be the ideal time to dig out those documents of yours and have a read through.
Here at Prestige Underwriting, we have taken into account the drastic change in lifestyle and routine and can confirm that our products are capable of accommodating the new home working norm. In fact, you do not even have to inform us should you suddenly be resigned to working from home providing you are undertaking admin/office work and not having visitors to or employees working from the premises. Even then, we have a flexible attitude towards risk and are frequently able to make further accommodations should the nature of your business fall outside of the admin description. 
Whether the business use be conducted from a room within the property or an outbuilding which has since been converted to give that extra office/working space required, we can look to accommodate terms for this. We can consider terms for a range of risks whether you have visitors to and from the premises or not. Each risk is carefully considered on its own individual merit and will give that extra cover as a property owner, should any incidents occur whilst visitors are in your home. 
Maybe you are planning on redesigning and extending your property to better suit home working? More and more homeowners are now exploring options in altering and extending their homes to suit a more home-based working culture whilst also creating extra space at home if moving right now is not feasible. We have tailored our product suite to cater not only for the adjustments in working culture but also to provide coverage and peace of mind during a period of renovation or building works. We can look to consider risks which are undergoing large scale works, including cover for the new structure / addition, customers who are property developers, basement works and property conversions. 
Should you wish to learn more about our home products feel free to contact our specialists on the below:
ROI Team by phone on 048 9035 5521 or emailing property@prestigeunderwriting.com
GB Team
by phone on
0800 0113 777
by emailing
gb-home@prestigeunderwriting.co.uk
If you are working from home, you maybe using or wasting more energy in the home. Read our quick guide on Energy Saving Tips during lockdown.