Products & Partnerships
Important tips for Thatch Home-Owners
14.12.20
Whilst Bonfire night is a distant memory, you could be fooled for thinking otherwise given the ongoing fireworks which frequently continue throughout the month of November.
Whilst many property owners are likely to not give these a second thought, the same cannot (and shouldn't) be said for those who are fortunate enough to own a Thatch property.
As it stands there are over 60,000 thatched properties within the UK many of which (roughly 75%) also have a listed status. Of course, it goes without saying that these properties come with a slightly higher fire risk than your standard brick and tile semi!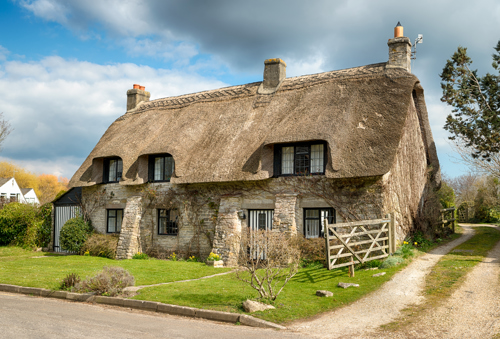 How can you protect your property?

So, what can your client do to protect and maintain their thatch roof not only from fire but for a number of elements?

• Make sure neighbours are aware of any risks that their private property firework displays and bonfires could cause
• Install an outside trap with enough hose to reach around the house including up to roof level
• Spark arrestors are actively discouraged as the disadvantages in respect of keeping them clean and clear of debris outweighs the advantages of them
• 1.8m is the minimum recommended height a chimney must be above the thatch
• If you have a wood burner or are interested in installing one at your home, you must contact a specialist and ensure the wood burner is the appropriate size for the room. Insulating a chimney liner is also essential
• Ensure you keep the chimney well swept and burn seasoned wood only
• If it can be avoided do not burn rubbish or garden waste at your property, find other ways to dispose of such items
• Install smoke detectors into the roof space itself and ensure they are linked to the others within your property
• If undertaking any building works check whether any use of heat is a requirement, ensure the appropriate fire permit has been obtained and the person undertaking the work has a suitable fire extinguisher to hand should any incidents arise
• Consider wired netting to cover the ridge and roof if concerned about birds causing unwanted damage
• Keep an eye on the ridge as these tend to need replacing every 8-10 years to maintain its position and integrity to keep water out
We at Prestige Underwriting are able to consider offering cover for Thatch properties that meet our underwriting criteria.
If you are interested in placing business with us please contact our specialist on;
Tim Baxter - Head of Broker Development on tim.baxter@prestigeunderwriting.co.uk
Chris Duck – Underwriting Manager on chris.duck@prestigeunderwriting.co.uk