General
We are delighted to recognised as a 5 Star MGA with Insurance Times
15.09.21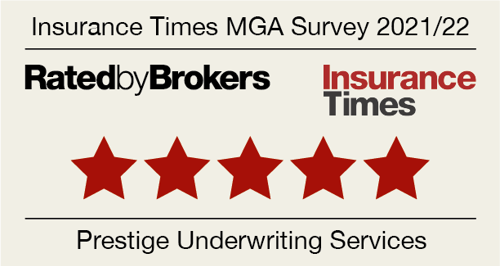 We are thrilled to announce Prestige Underwriting has been awarded 5 Stars in the Insurance Times MGA Survey 2021!
A total of 1041 Brokers nationwide took part in the survey that investigated brokers' opinions, attitudes, and satisfaction levels with their MGA partners. The Report is the first at a glance guide to trading, created for brokers by brokers and the overall ratings are created from the brokers feedback on the quality of service they had received over the last 12 months of business.
In 2020 we were thrilled to secure the 4 Star Award and to build on this in 2021 and achieve the top ranking of 5 Stars, is a tremendous accolade and endorsement of our relationships with our network of over 1,300 Brokers.
When asked which MGA had adapted well since the onset of the global pandemic in March 2020, Prestige Underwriting received excellent endorsement with many Brokers commenting on the Business as Usual service levels and our agility and flexibility to adapt, maintain quality of service, professionalism and commitment to SLAs at all times. Furthermore, our understanding of the needs of the policyholder were highlighted as our Underwriting team responded to concerns about cover for certain risks, in particular Unoccupied homes.
In the feedback shared, brokers commented on the collaborative nature of our relationships, friendliness of teams, the agility and flexibility demonstrated by the Underwriting and Broker Relationship teams, quality of both products and service, in particular the diverse non-standard risk appetite. Some commentary below, plus read more about fantastic feedback we are so thrilled to have received. 
"We have a strong and open and honest relationship with Prestige finding their underwriting team and management team accessible, accommodating and flexible."
"Strong service, ultra-flexible and view issues from a brokers perspective."
"Meets our business objectives and approach very well. Communication levels make it easy to get the right policy with the right terms at the right price."
"Great customer service, collaborative and willing to work through issues pragmatically."
"Prestige is extremely agile when it comes to identifying areas of business to target and price in the Non-Standard market. They are very easy to deal with and conduct themselves with professionalism."
Alison Williams, Managing Director shared her delight in the recent announcement
"We are extremely proud of by this rating and ranking and fully appreciate that it wouldn't have been possible without our network of valued partners and brokers. From everyone at Prestige Underwriting across our 3 regions – thank you for taking the time to vote for us and helping us secure 5 Stars! At Prestige Underwriting, Partnership really is the best policy!
Prestige Underwriting will feature as a 5 Star Winner in the 2021 MGA five-star report, published this week. A total of 38 MGAs were rated and ranked in the report and we are delighted to have ranked in the top 6 MGAs overall amongst some of our most respected peers in the MGA industry.