General
How can we try and reduce fire risks in our homes
04.03.21
Your home should be a safe place where you build your life and make memories and it is therefore frightening to imagine it being impacted from a disaster such as a fire.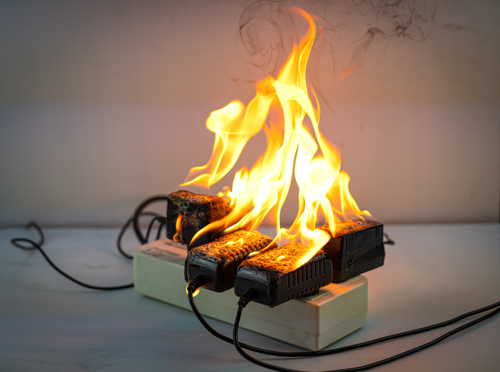 Although you can't control everything, there are some steps you can take to help reduce the risk of a fire breaking out.
Angela Wilson, Broker Development Manager shares some Fire Safety Tips & Advice, as we are now spending more time in our homes.
If you are not sure what items in your home pose the most threat, hopefully the below will help you identify them and help you to protect against the risk of fires occurring in the home:
1. TEST YOUR SMOKE ALARMS REGULARLY
Checking your smoke alarms regularly could be the difference in the seriousness of a fire if one broke out in the home. Testing your smoke alarm is easy as pressing the little button on the alarm. If it beeps weakly, then you need to change the batteries ASAP.
2. INSPECT ALL YOUR HEATING SOURCES
If your heating sources aren't working properly, they could increase the chances of a fire happening. It is recommended you have them checked annually by a professional to try to avoid the risk of a fire.
Make sure your air filters are always cleaned out, and if you're using a space heater – it needs to be positioned away from anything flammable. Fires can easily start from debris and dust being too close to a heat source so make sure you clean these regularly.
3. KEEP YOUR STOVE AND OVEN CLEAN
Don't worry, the stove didn't randomly combust because of your cooking. It most likely happened because forgotten food particles on the burner got too hot, although food particles aren't the only thing that could cause fires in ovens or stoves. If you can try to eliminate one thing and take care of this it is one way to try avoid a home fire.
Also remember material things in the kitchen such as curtains, tea towels, cloths etc. Make sure none of these are hanging close to the stoves or other cooking devices, they can easily catch fire. Finally, take extra care when cooking and try never leave naked flames uncovered.
4. DON'T LEAVE YOUR KITCHEN UNATTENDED WHEN YOU ARE COOKING
A few seconds is all it takes for a fire to break out. Therefore, you should never leave food that is cooking unattended, especially if you are frying anything. If you must leave the kitchen for any reason, turn off all hobs until you return. Or ask someone to pop into the kitchen to watch the food until you are back.
5. ALWAYS CHECK YOUR DRYER
Depending on what type of tumble dryer you have, you may need to ensure you have yearly checks / inspections carried out. Also try to remember to regularly clean out the lint trap every time you put a new load in.
A good tip is to check behind the dryer every so often to make sure lint or small clothing items such as socks have not got stuck in the back. I am sure you have experienced plenty of socks mysteriously going missing through time.
6. MAINTAIN ALL CORDS
It is a good habit to check leads and wires every time you plug something in. Look out for frayed or chewed wires. If you do notice damaged wires, replace them as soon as possible because things like this can be a huge fire hazard.
Also, check your cord placement. They tend to get hot so you should avoid running them under a rug or between your wall and furniture.
7. PROPERLY STORE FLAMMABLE PRODUCTS
Remember the simple things in the household can be extremely flammable such as cleaning products and common cosmetic items like hairspray and shaving cream. If they are exposed to a large heat source, they could combust. Make sure to keep them away from space heaters, left in direct sunlight and store them safely in a cool area.
8. PRACTICE CAUTION WITH CANDLES
Everyone loves scented candles, especially around the holidays – but you must be extra careful when using candles as they easily cause fires. Make sure you blow them out before you exit a room and keep them far away from blankets or other objects.
If you feel yourself drifting off to sleep, get up and blow the candle out. Never put them on an uneven surface as it is too easy for them to tip over. If you have pets or young children, make sure lit candles stay out of their reach.
9. BE CAREFUL WITH YOUR FIREPLACE
You don't want any stray sparks to escape so you need to make sure you have a door or fire guard between the flames and the flooring. It goes without saying, but never leave the fireplace unattended when you have a live fire burning.
When you throw the ashes away, make sure you've given them more than enough time to cool down. Dispose of them in a metal container that is designated just for the ashes.
10. KEEP FIRE EXTINGUISHERS AROUND
Fire extinguishers are your best defence weapon when a fire breaks out. Having one in the main rooms that present the biggest threat, such as the kitchen, provide additional protection to you and your family and they are easily available to purchase from reputable dealers.
Every family member should know how to use an extinguisher so if a fire does happen, it can be put out as fast as possible.
Only you can try help prevent fires in your home. 
By following these simple and sensible tips you could help protect against a fire in your home. Share this with your friends and family as there would be nothing more devastating than losing someone you love or everything you own due to a house fire.
For further information on how to try reduce the risk of fires in your home please see government guidelines and advice packs, UK Guide to Fire Safety or the Irish Government Fire Safety Advice.