People
Prestige Underwriting Celebrating Staff's Service in 2022 at Prestige Insurance Holdings Long Service Awards
23.01.23
On Thursday 19th January 2023 we were delighted to hold our annual Long Service Awards at the Kingspan Stadium. This was a special celebratory event of our staff who reached the 20+ years' service milestone in 2022.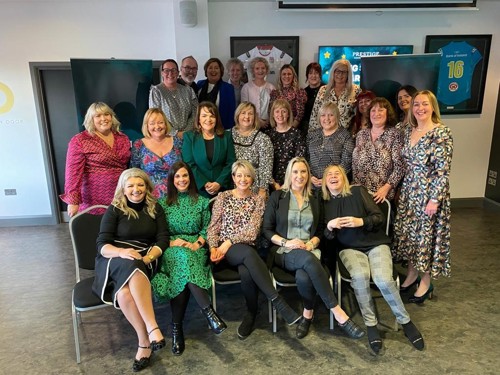 It was also our first face to face Long Service Awards event since the Covid pandemic and it was a fantastic afternoon congratulating and celebrating the wonderful people we get to work with daily.
Guests were welcomed with a prosecco/soft drinks reception before enjoying a delicious lunch before the awards ceremony.
In total we celebrated 35 staff across the Group who received recognition for their long service achievements. These involved various areas of the business from Personal Lines, Commercial, Underwriting, Claims, Quality Audit, Business Support Training, Accounts and Software Development. With the following number of staff receiving an award;
15 staff members with 20 years' service
12 staff members with 25 years' service
5 staff members with 30 years' service
3 staff members with 35 years' service
The respective Directors of the staff receiving recognition attended the event, which was compered by Wendy Close, HR Director, and hosted by AbbeyAutoline's MD Julie Gibbons.
Julie began by welcoming everyone and thanking all the award recipients for their contribution to the business.  This was further supported by each respective Director's kind words and  lovely stories about their staff members. Staff were personally thanked for their loyalty and service to the team and business over the years.
The attendees received a beautiful bouquet of flowers or a lovely hamper along with a Long Service certificate to officially mark their milestone.
We would like to thank all the award recipients for their continued hard work, loyalty and commitment to the Group, and look forward to celebrating many more years with them.
Congratulations to the 2022 Long Service Award Recipients
PRESTIGE UNDERWRITING
Underwriting
20 Years
Judith McAllister
Wendy Shefford
Accounts
20 Years
Training
20 Years